In this post, I will be walking you through everything you need to know about loft ladders (also called attic ladders) for small spaces. Additionally, I'm going to ensure that you find the best loft ladder for small spaces.
Did you know that your loft is one of the best places where you can store additional items that you rarely use? Sure, lofts can help you free up some space in your house.
Sadly, you may find it a hassle operating from your loft, especially if there's limited space such that moving in or out items is a nightmare.
And that means that your regular ladder may cause you more trouble, so what should you do?
Get a loft ladder for small spaces, and you'll see the difference.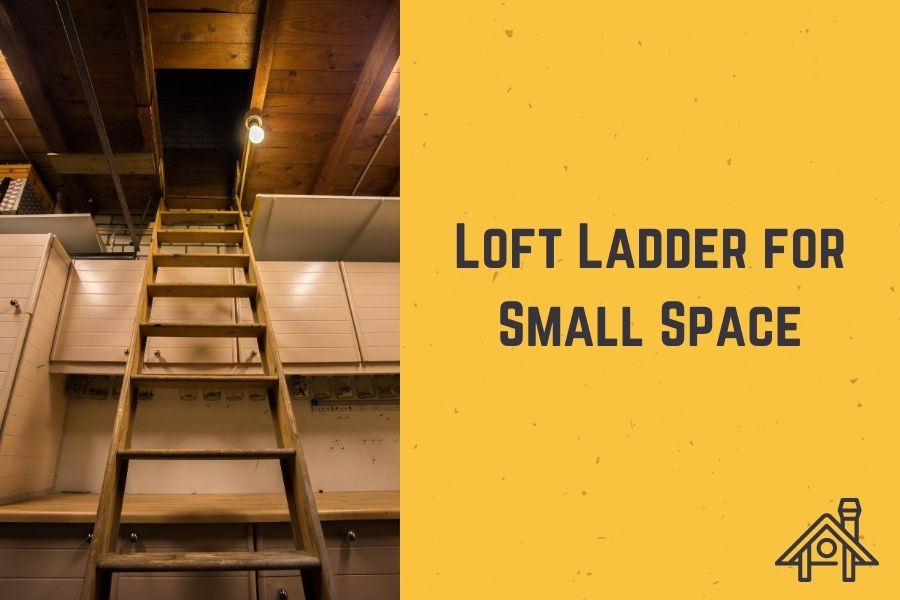 But before that, you should know what a loft ladder is, so very fast, let's jump right in.
What is a Loft Ladder?
A loft ladder is a retractable ladder that is installed into the floor of an attic and ceiling of the floor below the attic.
The cool thing about these ladders is that they can easily fit within your loft and extend them when you want.
Also, the ladders for loft can be used as a more affordable substitute for the staircase to free up more space in your house.
So, if you don't want to go through all the hassles, or need a better way to access your items through your loft, getting a perfect loft ladder will be a big stepping stone.
That said, let's look at different types of loft ladders, shall we?
Different Types of Loft Ladders for Small Spaces
1. Electric loft ladders
There are three main types of electric ladders – Stira, Dimes, and Skylark. Additionally, electric ladders are in two forms – fully electronic and semi-automatic.
All-electric loft ladders function the same way as compared to folding loft ladders. These ladders are easy to operate, and with just a click of the button, you are good to go.
Checking this video for a quick view:
2. Folding ladders
The second type of loft ladders is the folding ladder. These types of ladders are simple to operate, and their units often fold in either two or three segments, ending up on top of each other.
The most popular folding ladder is the timber folding ladder. And if you didn't know, timber ladders are way more straightforward to use than aluminum ladders. Additionally, these ladders are more robust and secure.
The downside of aluminum ladders is that they can bend as you operate on them, which is not what you want.
Checking this video for a quick view:
3. Telescopic loft ladders
Telescopic Loft Ladders are similar to concertina ladders when it comes to their space-saving qualities. These two ladders are tied to a minimalist aesthetic design. The ladders strike the perfect balance between functionality and form.
The appearance of these ladders fantastic and they fit in very tight spaces. The best advantage of these ladders is the value of money because simpler designs improve the value of the ladder.
Checking this video for a quick view:
4. Sliding loft ladders
Sliding ladders do not come with a supplied loft hatch, but they have a kit that can make it easier to convert the existing hatch to a hinged one. Additionally, these ladders have a lightweight aluminum structure.
Also, the sliding loft ladders can be a lot noisier than the more deluxe wood versions though they can complete an excellent job for a reasonable price.
One of the variants of sliding loft ladders is the concertina loft ladder. This ladder is fantastic in saving space and virtually does not require clearance or storage space in the loft. They also have a minute landing place requirements.
It is also important to note that the prices are a bit higher. Sadly, these ladders always require a lot of engineering so they cannot be constructed cheaply.
Checking this video for a quick view:
Loft Ladders for Small Spaces
Classic design, sturdiness, compactness, and comprehensive extensions are all that the Louisville ladder has to offer. It is one of the best aluminum loft ladders in the market, and as such, it should be your one-stop search.
It is an excellent choice for building spaces above the crosspiece in your garage. You can as well access your attic store safely and comfortably using the Louisville ladder.
It comes with a rough opening (22.5 inches by 63 inches) and a capacity of 350 pounds that makes it secure and versatile. Besides, this ladder includes heavy-duty hinges and insulated attic door to enhance shelf-life while improving its performance.
Besides, it ensures maximum stability due to the 3.375-inch deep steps. The heavy-duty aluminum hinges promote stability by limiting side to side motion. Also, with the adaptable feet, the shelf-life of your ladder is enhanced too.
That said, the installation process is also enhanced because it includes everything to complete the process effectively.
The installation kit the ladder offers is fully equipped with accessories such as plywood shims, aluminum feet, roofing nails, and attic doors. Setting up the ladder is a no brainer because it includes an instruction manual with an E-Z hang strap.
What's more, this Louisville AL228P Ladder exceeds the international standards set by ANSI and OSHA, thus durable.
Pros
Louisville ladder has a compact design.
Built of aluminum construction material, thus durable.
The ladder runs smoothly.
It comes with an instruction manual, making the installation process more straightforward.

FAKRO LMS 66866 is another great ladder for small spaces. This loft ladder stands out in the marketing industry due to the technical and safety features it offers its users. Besides, you can adjust it anytime, depending on your level of needs.
Apart from that, two reasons explain its well-earned reputation over the years. One: It's made of stainless steel construction material and fits entirely into the rough openings of 25 by 47 inches.
Two: The ladder includes powder-coated metal along with high-quality pine wood frames. The ladder also guarantees an exceptional mechanism for opening the hatch box, and as such, opens slowly and effectively. With the insulated door frame, you save on energy costs.
The hatch box comes in Beige color, and because your house interior matters the most, feel free to change the color to match your home decor.
This ladder is secure and can withstand heavyweights of up to 300 pounds, making it more convenient for any individual. The ladder also features the anti-spillage formula that enhances your safety as well as stability.
Finally, by purchasing this ladder, you get a two-year warranty in case of any faults that may occur before due services.
Core Features
The ladder is made of powder-coated metal.
It features an insulated wooden door frame.
This ladder includes thick rubber gasket insulation.
This ladder has a unique opening mechanism.
It has a unique pattern on the step surface.
Pros
It has a robust construction.
No door banging.
This loft ladder includes energy-saving features.
Exhibits quality and affordability.
One individual is enough to set up the ladder.
Cons
The corners of the frames aren't reinforced.

If you're in dire need of a loft ladder with compact design, go no further. Werner AA1510 aluminum ladder is a one-stop search for storerooms, hallways, and small spaces.
Besides being an excellent choice for small spaces, this ladder includes exemplary features such as portability, convenience, among others.
Opening and folding the ladder is more straightforward due to its lightweight. With the assist poles included, the process becomes more convenient because anyone can open and close easily.
Surprisingly, the ladder can withstand heavyweights of up to 250 pounds despite its lightweight. This loft ladder is, therefore, perfect for any cumbersome task.
Moreover, the installation process for this loft ladder is dead simple. With the non-marring and adjustable feet, your safety is fully guaranteed.
Core Features
This loft ladder has a telescoping design.
The ladder has non-marring feet for stability.
This includes an assist pole for convenience.
Pros
The ladder requires no technical skills to set up.
It is lightweight.
The ladder has a compact design.
It is easy to operate.
This loft ladder includes hardware for the door.
Cons
The ladder is delicate.
Despite being able to withstand heavyweights, it's not suitable for heavy duties.
It does not include a door.

Some people prefer wooden ladders to aluminum ones. Louisville is another alternative for the wooden ladder enthusiasts. And the best of all is that you can maximize this wooden ladder to offer more satisfaction.
Having grooved steps makes it easier to climb up and down The ladder can also be used by users as a substitute for staircases.
The material used to design this ladder is top quality. The ladder is sturdy enough to withstand a weight of up to 250 pounds. This means that a well-built person can easily navigate the steps without any worries. And because this ladder comes with a user's manual, setting it up is quite straightforward.
Safety concerns should be the least of your worries because the ladder complies with the standards set up by OSHA and ANSI.
Pros
This ladder has chiseled steps to make climbing easier
The ladder complies with ANSI and OSHA standards.
It is durable due to the top quality of the wood.
Cons
You are required to carry out the installation, which takes about thirty minutes to complete.

Louisville AA259GS is another attic ladder that's well-known for its high-quality and affordability.
It's made of aluminum and can fit perfectly in limited storage space due to its lightweight mechanism. Besides, it comes in handy with robust features, making your attic mounting process more straightforward and safer.
While other ladders still employ traditional spring mechanism, this loft ladder is above and beyond that. It includes a gas cylinder, which ensures effective transportation of heavy loads along with providing sufficient clearance space. Also, the cylinder enhances the smooth opening and closing of the door.
The lightweight feature that this ladder exhibit isn't any expense to its strength. It can hold up to 350 pounds of weight, making it convenient for any individual.
And because your safety is the most critical, Louisville provides you with flexible feet suitable for any floor, and the capped feet ensure no damages to the floor.
The most amazing thing about Louisville is the fact that it comes in handy with all the necessities for installation, saving you some time you'd have wasted trying to research how to set it up. Additionally, you'll get all the necessary installation gadgets.
Considering all factors when buying a product, this ladder ticks all boxes, such as user-friendliness, affordability, and safety.
Core Features
Designed with a gas cylinder
The ladder is built using an aluminum structure for durability
Accentuated hinges
Additional insulating parts
EZ hang cord
Movable feet
Pros
Strong construction
Well stashed
Vast clearance entry
Simplicity in installation
Acceptable lifting capability
Listing element
Cons
Some of the customers discredited the frame as inferior quality-wise.
The ladder joints are loose.

How to Pick the Best Loft Ladder for Small Spaces
The guide below will assist you in choosing the best attic ladder. Take note of these factors before purchasing your ladder.
Ladder Dimensions And Your Available Space
A ladder works best when there is an opening in the ceiling. Usually, the size for opening should be 22.5 by 54 inches, so ensure that there is enough space for this opening.
The space below the ladder should also be sufficient to accommodate the extending parts. Also, be sure to check the manufacturer's specifications.
Length And Weight Capacity Of The Ladder
The second factor to consider is the length and width of the ladder. The ladder size must match that of the house. That said, you should purchase an attic ladder by first considering the weight intended for movement.
Built- Quality
Regardless of the type of attic ladder you want, ensure that it is well built from the best materials. Since you are not aware of the future users of the ladder, it is essential to choose a ladder with the most significant weight capacity. Besides, be sure to check the durability and strength of the hinges.
Ladder Materials
The materials used to construct attic ladders can either be wood, steel, or aluminum.
Wooden ladders can serve a variety of purposes, but they are prone to adverse weather conditions.
On the contrary, aluminum ladders are considered the best because of their sturdiness, rust resistance.
Insulation
Insulation is a crucial factor when selecting a ladder for purchase. The stairs leak air, causing energy loss and finally contribute to hefty electricity costs. Therefore always ensure that the ladder you buy is well insulated and contains well-fitting doors.
Styles and Design
Loft ladders have many styles and designs. This means that they have varied features that influence their usage and convenience.
You can fold Ladders that have telescoping capabilities, or scissor-style are the most preferred to be used in residential areas.
Consequently, the telescoping ladders glide itself through the connected parts. The scissor-style ones have different features to the folding type. You can choose a ladder that suits your preferences.
How to Stay Safe When Using Loft Ladders
Several precautions should be adhered to when using the loft ladders. Some of them include:
Ensure that the installation of your loft ladder is done correctly. Though you may have the ability to set it up, always ensure that it is done by a professional.
Always ensure that the operation of the hatch is seamless. Any slight problem requires an instant fix because a ladder that keeps wobbling is very dangerous to users.
When climbing the ladder, ensure that a second person is holding it.
Strive to purchase a loft ladder with handrails which a user can firmly grip. Avoid climbing a ladder if you have fitness issues.
Ignoring these precautions could lead you into serious trouble. It is, therefore, advisable to be mindful of them and stay safer when operating loft ladders.
Bottom Line
Loft ladder users always find it hard to select the best loft ladder to purchase and yes, this can be a nightmare to you, especially if you don't have much experience with them.
It is, therefore, necessary to carefully define your specifications before selecting a ladder. Purchasing a loft ladder for small spaces without thoroughly reviewing your specifications can leave you with endless regrets later on.
Know whether you consider durability as your top priority or ease of use, among other features. This will help you make an informed decision.
Considering these factors makes it easier to choose a loft ladder for small spaces.
Note: When you purchase something after clicking links in our articles, we may earn a small commission. Read our Affiliate Disclosure for more details.
What to Read Next