Health and safety experts now claim that ladder accidents are as a result of self-approbation, and this is why you need to learn ladder tie off and tie off your ladder appropriately.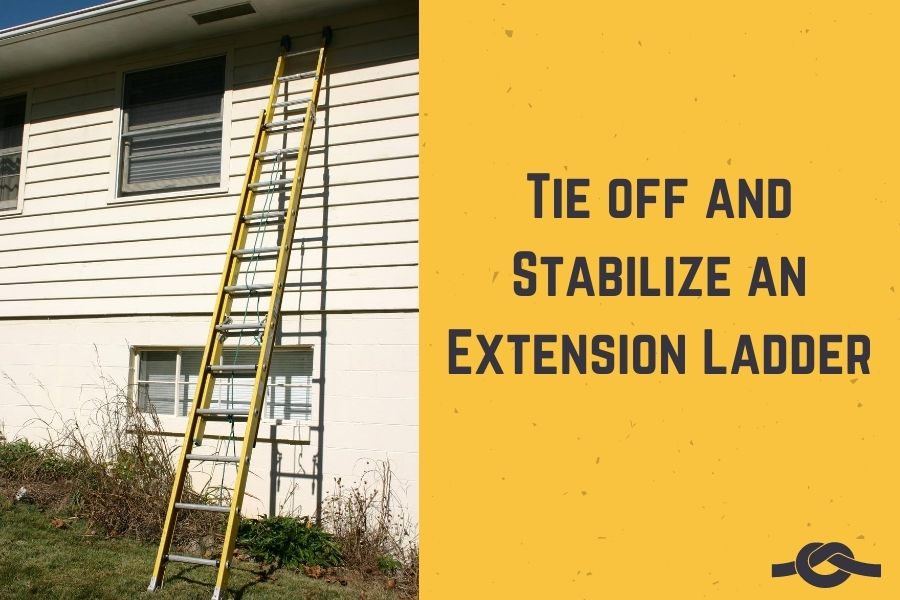 But ladder accidents can reduce if persons using ladders take some time to think what they'll be doing, have a reflection of what could be the consequences, and take measures to curb the most likely ladder accident risks.
Sadly, most people don't care about their safety. They don't check to see that the ladder they are using is positioned well and that it is safe. This makes them vulnerable to ladder accidents. 
So in this post, you are going to learn about ladder tie off. You are going to learn precisely how you can tie off your ladder and ensure your safety while you work on your projects.
Ladder Tie Off – How to Tie Off Your Ladder
You can't wait to know how best you can tie off your ladder, right?
Now, let's dive into the process of tying off your ladder:
Transport your ladder to the point where you will be carrying out your tasks, then place it on the ground.
Make sure that your ladder's feet rest on an even surface.
Additionally, you'd want to make sure that safety feet are safe.
Next, you should check the base to see if there are objects that might cause slip and fall.
Once that is done, you need to secure your ladder at the top by tying it using a rope to the building.
If you don't have something that'll help you attach your ladder, make sure you have a ladder stabilizer.
Make sure that your descent is secure by using a ladder extension.
You can quickly learn how to tie off by watching this video below. (Firefighter demonstration)
And that's it, but wait, what else do you need to know about ladders?
What You Need to Know About Ladders
You need to familiarize yourself with some basic ladder concepts. Below are some basic ladder question concepts you should ask yourself before doing any project:
How do I make sure that I maintain three contact points while I'm using my ladder?
How can I ensure my ladder tie off the right way?
What's the sign that I'm buying a safe ladder?
There are approximately 800k people who get involved in ladder accidents every year. You should ask yourself the above questions to find ways of how you can better answer them while making sure you are taking precautionary measures.
Know Which Ladder to Use
Did you know that the majority of accidents that occur are as a result of people lifting heavy ladders? That is why you need to consider the size and shape of your ladder.
Additionally, you need to make sure that you consider choosing a ladder with the right ladder weight. This will help you prevent unnecessary ladder accidents.
It is usually tempting to work on a project where you will need to reach for the closest ladder. In most cases, you will find out that these ladders are either too small or just too short to handle the job. And because you have no option, you will often try to reach the top step, and that's how you get involved in an accident.
So it is why to consider a safe ladder for every different project so that you can minimize such accidents. Make sure you define the requirements of every project before you start working on it to ensure that you are taking the necessary precautionary measures.
How to Stabilize your ladder for safety by using tools?
Practically, it would be wrong to claim that every ladder is safe. In reality, you need to secure every ladder you will be using for your projects – whether indoors or outdoors. Fortunately, there are a couple of ladder stabilizers you can use.
Guardian Fall Protection
For example, the Guardian Fall Protection 11200 IS-766 would come in handy.
This tool comes with easy-to-use hooks that you can use to guarantee your safety while using your ladder. So, if you want to tie off your ladder the right way, the Guardian should be your best bet. 
Guardian also has the Full Protection 10800 safe T ladder extension.
This tool provides a simple transition from the building to your ladder. Additionally, you don't require any technical skills to install it. In other words, this ladder is quite simple to install. 
Qualcraft Portable Jack
A smooth, comfortable experience is all that you want in a ladder. Well, the Qualcraft portable jack ensures maximum stability on the Ladder Rung Step.
It enhances foot support while reducing vertigo feelings when using the ladder. Also, installing the step is dead simple – no additional tools needed. Regardless of the type of ladder, this jack comes in handy. 
It has an aluminum construction and is ideal for jobs that require you to stand on one step for long periods. Such include house painting, cleaning the gutters, among others. The typical width of the step is 18 inches, capable of preventing foot fatigue.
Final Thoughts
Sure, it's a good feeling to work on home projects, but I'm sure you don't want to fall victim to the many ladder accidents that occur every year. Therefore, implement these hacks to enable you to tie off your ladder appropriately.
Additionally, you can go through the options of securing your ladder using different tools. At least, they will help you avoid ladder accidents.
What to Read Next